Candy and Roses and Cupid, Oh My
Chocolate is on display. Roses are a deep shade of red. Plush stuffed animals are falling off of the shelves. Candy hearts are causing cavities. Cupid's arrows are flying through the air.
All of these signs point to one holiday: Valentine's Day. That's right, February 14th is quickly approaching and although this holiday is loved by some, it is dreaded by many. The public displays of affection, sappy love posts on social media, and over abundance of cheesy valentines leave some feeling anything but loving on a holiday that is meant to highlight just that, love.
While those of us who lack a S.O. may be tempted to hate on this holiday, only finding solace in the fact that all of the leftover candy will be discounted on February 15th, Valentine's Day isn't just a holiday for couples. And ladies, single or not, that's what I want to talk about.
A Holiday for Single and Taken Alike
Love isn't limited to romantic relationships. Think about all of the people in your life who you love. Perhaps your parents, siblings, and best friends made the list. Whether you are in a relationship or not, there is bound to be one person in your life who you can show a little extra love to this Valentine's Day.
Personally, I love Valentine's Day because I use it is as an opportunity to honor the women in my life: my mom, my grandma, my aunts, and my best friends. Whether I'm in a relationship or single, each year I embrace this holiday as an excuse to spend a little extra time with some of the amazing women who mean the most to me. While it can be easy to wallow in singleness or get swept up exclusively in the cute couple traditions, I encourage you to see this Valentine's Day as an opportunity to celebrate the women in your life.
Galentine's Day
Our model for celebrating women well is none other than Leslie Knope of Parks and Recreation, historic founder of Galentine's Day.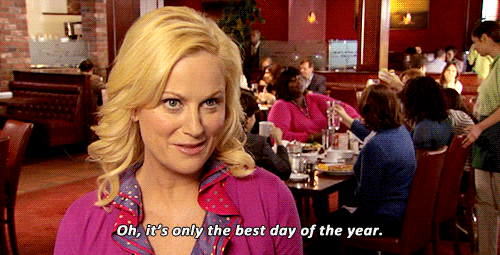 Played by Amy Poehler, Leslie realized how important it is for ladies to celebrate ladies. Our culture has adopted this tradition, making Galentine's Day a yearly holiday. As Valentine's Day looms, it's easy to focus on a romantic relationship — or lack thereof — in your life, but that doesn't have to be the sole focus. In fact, this time of year should be a time to express our appreciation and gratitude for all of the people we love, especially the extraordinary women in our lives. So, following Leslie's example, here are some ideas for how you can celebrate the lovely ladies in your life this Galentine's Day:
Give flowers. Flowers aren't just meant for men to give to their S.O. Buy a pretty bouquet, or pick some flowers yourself, and give a flower to each of the important women in your life. A friend of mine did this for all of the women we work with a few years ago and I will never forget how special it made us feel. So, follow in her footsteps and adopt this simple but beautiful gesture.
Host a Galentine's Day brunch. I am all for any holiday that gives me an excuse to brunch, and Galentine's Day doesn't disappoint. Jump on the brunch train and either head to your favorite spot or host a potluck. My go-to Galentine's Day brunch is a waffle bar potluck, where each person brings their favorite waffle topping to share. Whatever you decide to do, be sure to it involves yummy food and great conversation with your best gal pals.
Shoot some Hoops. For those of us who prefer to be a bit more active with our friends, organize a tournament for your favorite sport, be it basketball, volleyball, or table tennis. Encourage friendly competition and have a Galentine's themed prize for the winners.
Make face masks. If being pampered is more your style, there's no better way to celebrate Galentine's Day than by making your own face masks. Have all of your friends join you in their comfiest clothes and spend some time pampering yourselves with manicures, pedicures, and facials. If you're in need of a good face mask recipe, simply combine ½ cup hot water, ⅓ cup oatmeal, 2 tablespoons plain yogurt, 2 tablespoons honey, and one egg white. Mix it all together and apply a thin layer to your face, washing it off after about 15 minutes.
Dive into the lives of women in Scripture. While we oftentimes overlook the remarkable women in Scripture, Galentine's Day is a great time to explore their lives. Gather your closest friends and take part in a Bible study that highlights these prominent women. Life Teen's "I Choose the Sky" is a great resource for this type of Scripture study and would make an even better gift for the women who participate.
Volunteer at a women's shelter. If you're looking for an opportunity to give back this Galentine's Day, schedule a time for you and your best friends to volunteer at a women's shelter or another organization that serves women who are in need. Use the time spent serving to deepen your relationships with one another and give back to your local community.
Regardless of if Valentine's Day is your favorite holiday, or if you typically spend it drowning your sorrows in chocolate, my hope is that you'll take full advantage of it this year and shower those you love with love. Better yet, make it a yearly tradition and continue to grow your circle of influential, remarkable women.